"Training dogs and helping people is more than my profession, it is my passion"
Michelle LaMarca Knapp, CPDT-KA, is the owner and head trainer of Ain't Misbehavin' Canine Academy. Michelle has been training dogs for over 20 years. Fifteen years ago she decided to go into business for herself and opened Ain't Misbehavin' Canine Academy. Michelle is certified by the CCPDT, (Certification Council for Professional Dog Trainers), and is a professional member of the IACP, (International Association of Canine Professionals). She is an AKC CGC evaluator and is a member of the Nassau Dog Training Club, Inc. She is a former dog trainer at North Shore Animal League America, working primarily with behaviorally challenged dogs. She has been involved with lab rescue on Long Island for over 20 years and is an active board member of Long Island Labrador Retriever Rescue. She was the referred to trainer for Lake Erie Labrador Retriever Rescue in the Columbus, Ohio area (2012-2013).
Michelle has mentored with some of the best trainers in the country. Her experience qualifies her to train for obedience, behavior problems, and handicapped assistance. However, her special area of interest is family pets! She has worked for various trainers throughout Long Island and the New York metro area before opening Ain't Misbehavin'. Her training method is a balanced approach that utilizes lots of praise and positive reinforcement as well as leash "guidance" and correction.
She believes that YOU, as the owner, are a big part of the training process. You will learn to properly communicate with your dog without a clicker and without cruel and punishing techniques to:
build a positive, trust-based relationship with your dog.
learn simple and effective training methods designed to make any dog a reliable, enjoyable companion.
Michelle continues to study under professionals across the country, regularly attending seminars on the study of dog behavior and the ever-evolving dog training industry. She attributes her success to her willingness to pursue her own education through persistent study and mentoring opportunities, revising and perfecting her training skills to provide you with imaginative. understandable, EFFECTIVE, RESULTS ORIENTED dog training. She has established and maintains the highest standards in professional dog training that meet the diverse needs of dog owners in the metropolitan area.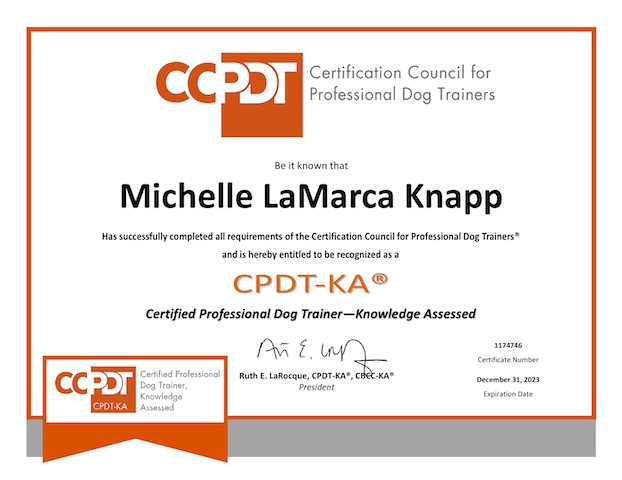 Why Hire a Certified Trainer?
Dog training is an unregulated industry.  There are no licensing requirements nor is there regulatory oversight—anyone can hang out a dog trainer shingle. How then do dog owners know that they are choosing a professional trainer who has met strict education and experience requirements? One way is to look for independent certification.
The Certification Council for Professional Dog Trainers, (CCPDT) is the only independent testing and certification organization for the dog training profession.
Michelle LaMarca Knapp is certified by the CCPDT and has:
Passed several rigorous exams that test dog-training skills and knowledge
Signed a strict Code of Ethics for personal and business conduct
A proven commitment to continuing education and professional development
A proven commitment to enhancing the dog training profession
What Is The CCPDT?
The CCPDT is an independent, nonprofit credentialing organization. Its sole purpose is to assess, test, and evaluate dog training and behavior professionals through a set of standardized tests—the organization is not affiliated with any outside interests or schools of thought.
Thousands of dog trainers worldwide maintain the CCPDT's certifications to demonstrate their mastery of humane, science-based dog training practices. Learn more about the CCPDT.